The combination of bacon and sun-dried tomatoes is my new favorite thing.  The marriage of savory + salty with the 'pop' of sweet from the sun-dried tomatoes and sweet potatoes is DELISH.
To amp up the nutrients of this recipe, I used:
pasture-raised eggs–local is best, but I used Alfresco brand from Kroger
sugar-free cured Pedersons Farms bacon. I like their canuckin' variety since it's not as greasy.  You generally can find it at Earthfare or Whole Foods I have it shipped from the Simple Grocer.
sweet potatoes with the skin on since this adds some fiber (and saved time!)
Sun-dried tomatoes packed in olive oil (instead of canola)
Homemade Italian seasoning with good quality dried herbs
Once you sauté the onions and garlic, throw in the thinly sliced bacon (I cut the bacon with kitchen scissors which was much easier).
After adding the diced sweet potatoes, cover with a lid until they soften–about 5 minutes.  They don't need to be 100% cooked since you'll also be baking them as well.  Keep checking on them to make sure nothing is burning on the bottom.  You can stir or add a little more avocado oil if you need to.
Adding the sliced kale, then the sun-dried tomatoes allows the oil of the tomatoes to help the kale wilt down.
You'll pour the 'hash' mixture on the bottom of a 13×9 pan and whip up the egg mixture.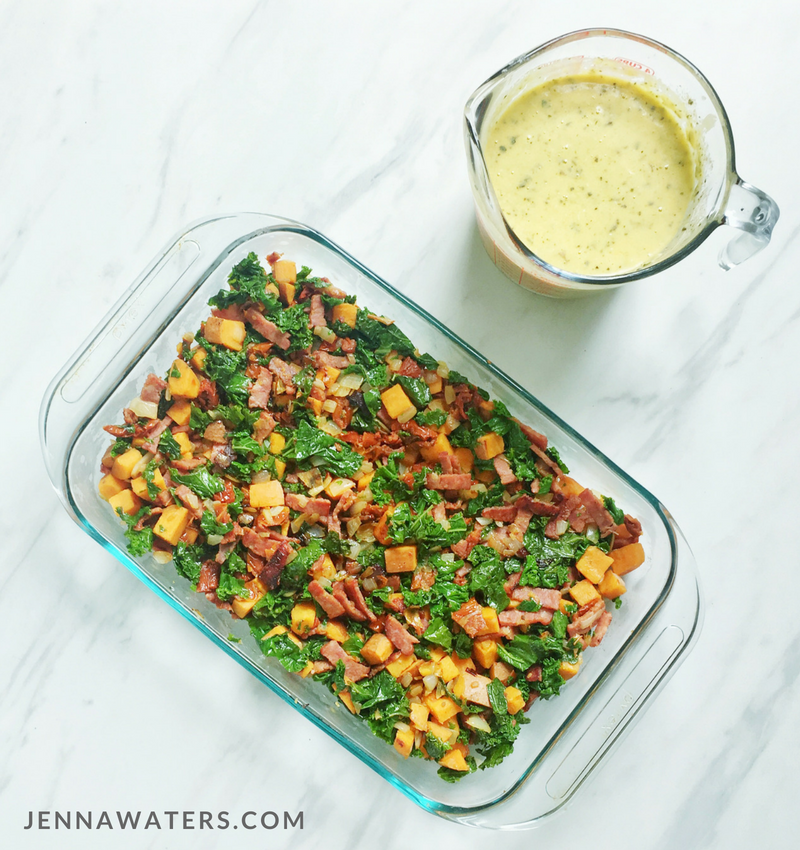 I wish you could scratch and sniff the screen….it smells so good!
Bake it 20-25 minutes until the eggs are set and there is a nice golden-brown crust.  We slice into 12 even slices, and top with fresh avocado slices each morning.
I find this keeps about 3-4 days in the fridge, and I'm sure you could even freeze as a whole or in individual squares (wrapped in parchment paper and placed in a sealed freezer bag).
Bacon, Sweet Potato, Sun-dried Tomato Breakfast Casserole
The sweetness of sun-dried tomatoes and sweet potatoes with the savory bacon makes this breakfast casserole a hit! High in healthy fats, good protein, and nutrient-packed veggies!!
Ingredients
2

tablespoons

Avocado Oil

1

Onions

,

diced

1

tablespoon

Garlic

,

minced

1

pound

Bacon

,

cut into thin strips

2

cups

Sweet Potatoes

,

diced into small cubes

1

cup

Sun-Dried Tomatoes

3

cups

Kale

12

Eggs

1

can canned full-fat coconut milk

1

tablespoon

Italian Seasoning

½

teaspoon

Sea Salt

Avocado

,

sliced (to top)
Instructions
) Pour avocado oil in a pot, and saute onions 2-3 minutes until cooked.

) Add garlic and bacon, stirring until bacon is cooked throughout.

) Add diced sweet potatoes into pan and cover for 5 minutes until potatoes soften (you may need to uncover and stir occasionally to prevent things on the bottom from burning).

) Add kale, then sundried tomatoes, stirring until well combined.

) Cover and cook on low heat until kale is wilted

) In the meantime, whisk together eggs, coconut milk, italian seasoning, and sea salt.

) Layer the bacon, sweet potato mixture on the bottom of a 13x9 inch pan, and pour the egg mixture over the top.

) Bake at 375 F for about 20-25 minutes.
SERVING INFO
I love the convenience of a breakfast casserole, but you could also leave out the egg mixture from this recipe and just make a breakfast hash. Serve with fresh scrammbled eggs or a egg over medium with a runny yolk. YUM!