I'm a BIG fan of things that have big flavor but don't require a lot of extra work…such as using herbs, or using a different cooking method [in enters a cedar plank].  Grilling fish on a cedar plank is an easy way to give a delicious smoky flavor to fish.
You can find cedar planks in any grocery store, usually with the grilling items or in the meat section.  You'll just need to soak the planks for at least 30 minutes before cooking so they don't catch on fire.  I just fill a rimmed baking sheet with water and set a coffee mug on the plank to submerge it (super fancy).
While the plank is soaking, mix up the marinade ingredients and set aside.  You can prep the salmon by laying it on top of the cedar plank (we leave the skin on), and sprinkling salt and pepper on top of it.  Refrigerate the salmon until you're ready to grill it.
I keep the other ingredients super simple by buying as many things frozen as possible…i.e. the edamame and riced cauliflower ('cause mama ain't getting her food processor out to grind cauliflower).
The best kind of salmon to buy is Wild caught Sockeye from a sustainable source.  I have found good Wild Sockeye both at Kroger and Trader Joes.  Also, Costco has individually packaged single-serving Wild Sockeye that would also work!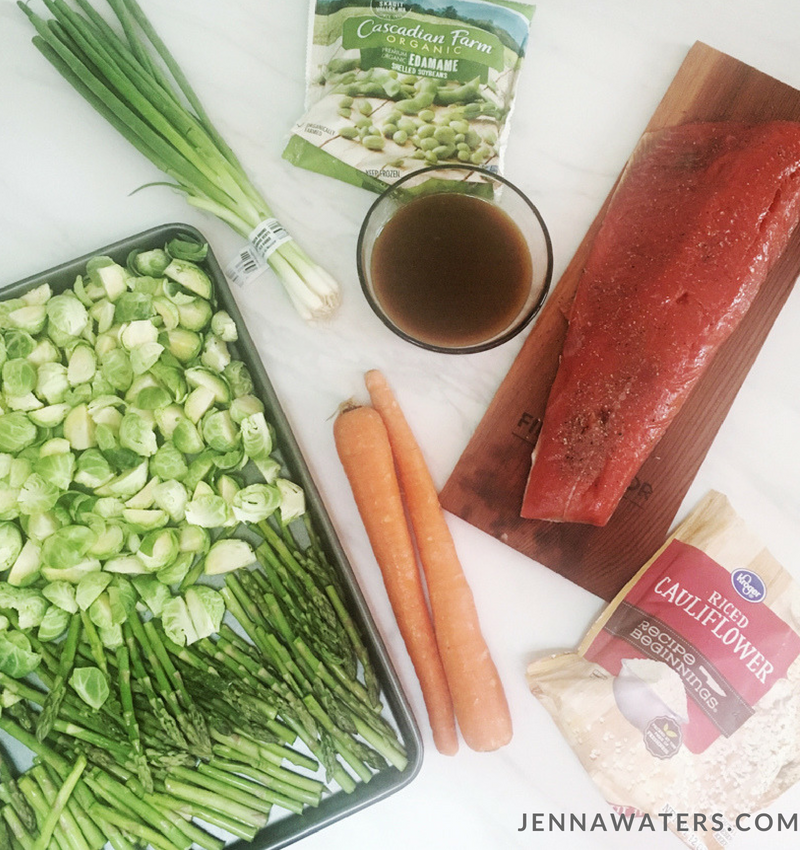 This sweet and smoky salmon is the perfect centerpiece to a Honey Teriyaki Bowl with cauliflower edamame rice, roasted asparagus and brussel sprouts, and honey carrots.  On our plates, we also put a bed of spring mix underneath everything.  We also put some sliced avocado on top of the salmon for extra healthy fats (and fiber).  Thats 9…NINE…veggies in one dinner!!  Helllooo nutrients + fiber.
Full of veggies, super filling, and so delicious!
Honey Teriyaki Salmon Bowls
Ingredients
SALMON:
1

lb

Wild–Caught Salmon

,

wild sockeye is best

¼

cup

Honey

1

Tbsp

Coconut Aminos

1

Tbsp

Dijon Style Mustard

1

tsp

Rice Wine Vinegar

1

tsp

Garlic

,

minced
VEGGIES:
1

lb

Brussel Sprouts

,

stalks cut off, and quartered

1

bunch

Asparagus

,

cut in thirds

2-4

Carrots

,

cut into matchsticks

1

(10-ounce) package

Frozen Shelled Edamame (Mukimame)

1

(12-ounce) package

Frozen Cauliflower Rice

1

Onions

,

chopped

1

Tbsp

Garlic

,

minced

1

Tbsp

Avocado Oil

1

Tbsp

Ghee

Sea Salt

Black Pepper

,

to taste

1

Green Onions

,

for garnish, optional

Sesame Seeds

,

for garnish, optional

Avocado

,

sliced (for garnish, optional)
Instructions
Soak cedar plank in water for at least 30 minutes before cooking

Mix together honey, coconut aminos, dijon mustard, vinegar, and garlic.

Place salmon on top of cedar plank, sprinkle with salt and pepper, and spoon 1-2 tablespoons of the marinade on the salmon to coat evenly

Place cedar plank on the grill, on a low heat setting. Cook for 10 minutes and brush on another layer of glaze.

Cook until desired doneness, about 5-10 more minutes.
FOR THE VEGGIES:
Arrange asparagus and brussel sprouts on a sheet pan. Drizzle with avocado oil, and season with salt + pepper. Roast in oven at 400 for 20-30 minutes.

Meanwhile, place drizzle of avocado oil and chopped onion in a pan and cook until soft. Add garlic, and saute for 1-2 minutes. Pour in frozen cauliflower rice and edamame, stirring until thawed and cooked through. Pour into bowls.

In the same pan, melt ghee and add carrots. Stir until softened, and add in 1-2 tbsp of leftover teriyaki sauce.

Assemble plates with cauliflower edamame rice, roasted veggies, carrots, and salmon. Top with sesame seeds (and green onions, and avocado slices) if desired.