This chicken is to DIE FOR!  It is so flavorful and juicy…perfect for a spring or summer night on the patio.  I'm a huge fan of one-pan-meals that are easy to throw together…and this is both.  You could easily do 2 chickens at a time for an easy cookout crowd pleaser or just to have some leftover chicken for the week to use for chicken salad, on a pizza, in quesadillas, etc.
Chop your bell peppers and potatoes and put them in a roasting pan (for the oven) or a grill roasting pan–with holes–for the grill.
Prepare your chicken by removing anything inside, washing out, and patting dry with paper towels.
TIP: Unwrap your whole chicken in your sink with a plastic bag underneath for less mess.  When you're done, just tie up the bag and toss!
Separate the veggies a bit to fit the can of beer (or wine, or broth) in the middle of the pan.  #Yeehaw
TIP: To make it Whole-30 approved, use broth.
Place the bottom cavity of the chicken on top of the beer can and position the legs in front to support it.  Make sure the chicken is as evenly on the can so it doesn't tip the can over.
TIP: Pre-mix your salt and seasoning in a separate container so you're not contaminating your salt and herb containers with raw chicken love.
Drizzle the chicken with avocado oil and massage over skin.  Sprinkle herb mixture over chicken until evenly distributed.  It's like a chicken skin exfoliator.
I love cooking this with an extra pan of roasted veggies so we have extra chicken AND extra veggies for the week.  Cook once, eat twice.
You can cook this either in the oven or on the grill.  If you are going to use the grill, just make sure to have a grill roasting pan (one with holes in the bottom), and if using you're oven, you'll probably have to move an oven rack to fit the tall chicken.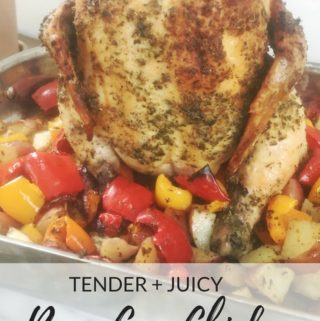 Beer Can Roasted Chicken + Veggies
Ingredients
1

Whole Chicken

,

washed

1

Red Bell Peppers

,

cut into small squares

1

Green Bell Peppers

,

cut into small squares

1

Yellow Bell Peppers

,

cut into small squares

2

lb

Small Red Potatoes

,

quartered

1

(12-ounce) can

Beer

,

opened (or use white wine, or chicken stock)

½

cup

Avocado Oil

4

tbsp

Italian Seasoning

Sea Salt

Black Pepper
Instructions
Preheat oven or grill to 375

Rinse the chicken inside and out and remove any giblets, pat dry with paper towels and set aside.

Chop up peppers and potatoes and place them in a roasting pan

Clear a place to set the beer can in the middle of the pan and position the chicken cavity over the beer can with legs in front, so the chicken is sitting upright.

Drizzle chicken with avocado oil and spread evenly over the skin (excess oil will drip into the veggies)

Generously season the skin with salt, pepper, and italian seasoning.

Toss the veggies in the excess oil, and seasonings (and add additional if you wish)

Place roasting pan in the oven and cook until internal temperature of the chicken reaches 165 (about 1 1/2 hours)
SERVING INFO
You can also cook this on the grill! Use a grill roasting pan (with holes in the bottom) and maintain internal temperature at 375